Commercial Vehicle Camera System
A
vehicle & truck camera system

designed for commercial fleets.
Subscribe to our YouTube Channel
Nothing gets past our 360 vehicle camera system. skEYEvue's multi-mounted fleet cameras can provide an unobstructed view with optimal viewing angles of everything happening around a driver's truck or vehicle. Video footage can be seen in real time or played back in full HD directly from the onboard mobile DVR.
GPS fleet tracking with vehicle camera
Fleet management is now easier than ever, because skEYEvue cameras have built in gps! Get your hands on detailed trip history for every truck and see the real time locations of all vehicles using just one dashboard! Now you can track your vehicle's locations and video feeds in real time with our GPS fleet tracking system.
Have Questions?
Talk to An Expert!
Prefer to Chat?
Give us a Call!
Commercial Truck Camera Systems For...
Experience skEYEvue from skEYEwatch, your all-in-one truck camera system designed for comprehensive fleet safety. No matter your industry, our adaptable camera system integrates seamlessly with any vehicle, ensuring top-tier safety, accountability, and efficiency. From food service vans to construction vehicles, public utilities, and more, skEYEvue is your ultimate truck camera system. Elevate your fleet security today with skEYEvue.
Camera systems for big rigs and the over-the-road trucking industry.
Truck surveillance cameras for the repo, wrecker, recovery and tow truck industry.
Vehicle cameras for garbage trucks, waste management vehicles, roll-off trucks, recycling trucks and more.
Camera systems for ready mix trucks, volumetric trucks, block trucks & more!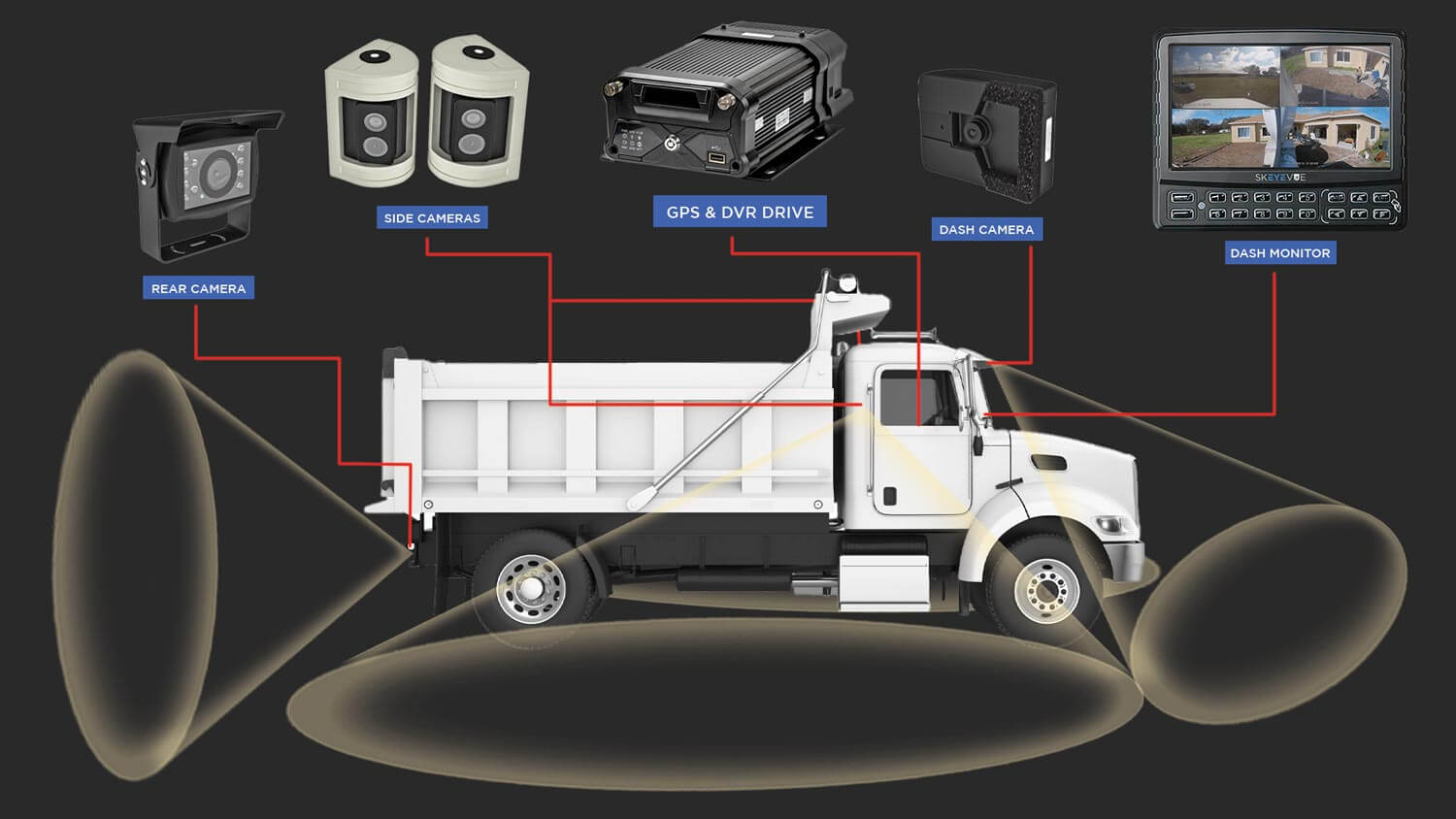 Truck camera systems for the aggregate industry. Dump trucks, articulated trucks and more!
Camera surveillance systems for motorcoaches, transit buses, school buses and more!
The #1 heavy equipment camera system on the market! Now available for agriculture and industrial construction vehicles.
Armored Trucks, Vans & Cars
Camera surveillance systems for armored trucks, Brinks trucks, money trucks and more!
Vehicle Security & Surveillance Camera Solutions
This list continues! We have a vehicle surveillance solutions for just about any commercial fleet you can think of.
Transportation & Delivery
Commercial Truck
Camera System
A Fleet Camera System That Reduces Illegitimate Claims.
Are you frustrated with your current fleet camera system? Tired of paying for insurance claims that are fraudulent? Your employees have been involved in several accidents and you suspect they were not all legitimate. You've tried hanging a dash cam in your windshield, but it has rarely worked for you!
Imagine having a fleet camera system that can capture everything around your vehicles in a near 360° view. We have great news! -This technology has arrived!
No more false claims or surprises!
Introducing skEYEvue – A fleet camera system that will help reduce collision claims by capturing evidence from near 360° in the event of an incident like sideswipes and rear end collisions. These types of collisions are difficult to see on simple dash cams since they only capture footage from one perspective – not anymore with skEYEwatch's 360 truck camera system!
With our multi-mounted cameras, we have more angles than any other vehicle surveillance system out there today. In fact, our platform will support up to 8 cameras per vehicle. No more guessing who's at fault!
Did someone side swipe you? No problem, with skEYEvue's truck side mirror cameras, you'll have all the video evidence you'll need to exonerate your drivers. The days of illegitimate claims are finally over! You're insurance company will thank you!
Not another accident camera. Our vehicle cameras are always recording.
Our vehicle camera system captures more than just your accidents. skEYEvue's fleet cameras are always recording, unlike other AI-Powered dash cams, which only start recording when something happens such as a jolt or hard brake. This empowers drivers to have greater peace of mind about their driving skills plus false accusations can be easily proven wrong with our high-quality footage showing the whole story from start to finish.
Our vehicle cameras improve customer service.
There's nothing like a little good ol' fashioned accountability to keep the wheels of any company running smoothly. skEYEvue Vehicle Cameras are no exception and now we've taken it up another notch with an amazing feature that can store footage from your vehicle deliveries at your customer job sites. Let's say, for example, one of your customers claims you haven't delivered on what was supposed to be an agreed upon service. Now all you have to do is pull video evidence straight off the DVR, so there isn't a single detail missed – leaving absolutely zero room for dispute or confusion about who deserves blame (or credit!) when things go wrong… 
View your vehicle's live video feed from anywhere in the world.
Now you can always be in control of your fleet vehicle cameras with skEYEvue! Our cutting-edge 4G LTE mobile camera solution allows users to view their vehicles' live video feed from anywhere. It comes complete with an online dashboard for login and checking up on drivers. Dispatchers have remote access to their driver's live video feed, so they can help them navigate through difficult terrain. Also, managers can remotely request-to-download recorded video clips from the vehicle's onboard DVR, even if the vehicle is offsite and in-motion.
Smart Dashboard Cameras aka AI-Powered Cams (optional feature)
Smart dashboard cameras are nothing new in the industry. In fact, it's a very controversial topic right now. Although the intentions are good with this technology, because the idea is to reduce bad driver behavior. However, sometimes new technology like this will make drivers feel uncomfortable; – like they're being watched 24/7.
That said, we understand companies are hesitate going full AI on their driver's performance, especially if it hasn't been a major problem in the past. Consequently, rather than making artificial intelligence a standard featured, we've made it completely optional for now, so that you can choose how to use your AI powered dashboard cameras appropriately.
If you are looking for info on our AI-Powered camera solutions then click here to learn more: Smart Dashboard Cameras
The skEYEwatch X3 Core (mDVR) is like a rugged black box, but built for your truck and vehicle fleet camera systems.
The skEYEwatch X3 Core (nicknamed: Vehicle Blackbox DVR) is an extremely rugged mDVR that includes a tough SSD and 8-channels total (6 A/V ports + 2 IPC ports).
Are 8-Channels too much? Or Not enough?
Perhaps you have no use for an 8-channel / 8-camera mDVR. Many people start out thinking this way. Then down the road, they want to add cameras and consequently realize they ran out of camera ports. If an 8-channel system is truly too much for you, then we also have a less expensive 5-channel mDVR (4 A/V ports + 1 IPC port). Both the 8-channel and 5-channel systems are readily available.
On the flip side, sometimes large passenger vehicles require a bus camera system with 12-channels, we can get those, too, however expect a short delay for the special order.
Our X3 Core mDVR is already tough. It's getting tougher in 2023!
Our 2023 edition is going to be even more rugged. The X3N (coming 2023) will be collision proof, water proof and fire proof. Why does that matter? Because if there was ever a bad automobile accident and let's say, "no witnesses around", then the video evidence recorded to this rugged blackbox mDVR should hold all of the answers.
Full HD vehicle surveillance system records to a onboard Mobile DVR
skEYEvue cameras capture full hd video footage with with optimal frame rates. With a 4 camera configuration, the skEYEvue X3 Core DVR can store up to 6-7 weeks of recorded footage. With different configurations available, you may even be able to upgrade your device for more storage and mount up to 8 cameras per vehicle.wqw

Remote Access To The Vehicle Camera System DVR with Cloud Retrieval
When you need to know what happened during your driver's trips, the footage recorded to your vehicle's DVR is priceless.  With skEYEvue's cloud storage retrieval feature and unlimited space for video clips, requesting a clip has never been easier – Request videos clips from your system's DVR even if they are off-site & in-motion. 
Whether it's your driver's fault or an illegitimate complaint, with skEYEvue, you can now address public complaints about your driver's performance immediately.
Mobile Digital Video Recorder (mDVR)
CP4
Touchscreen mDVR Dash monitor
Vehicle Cameras & Accessories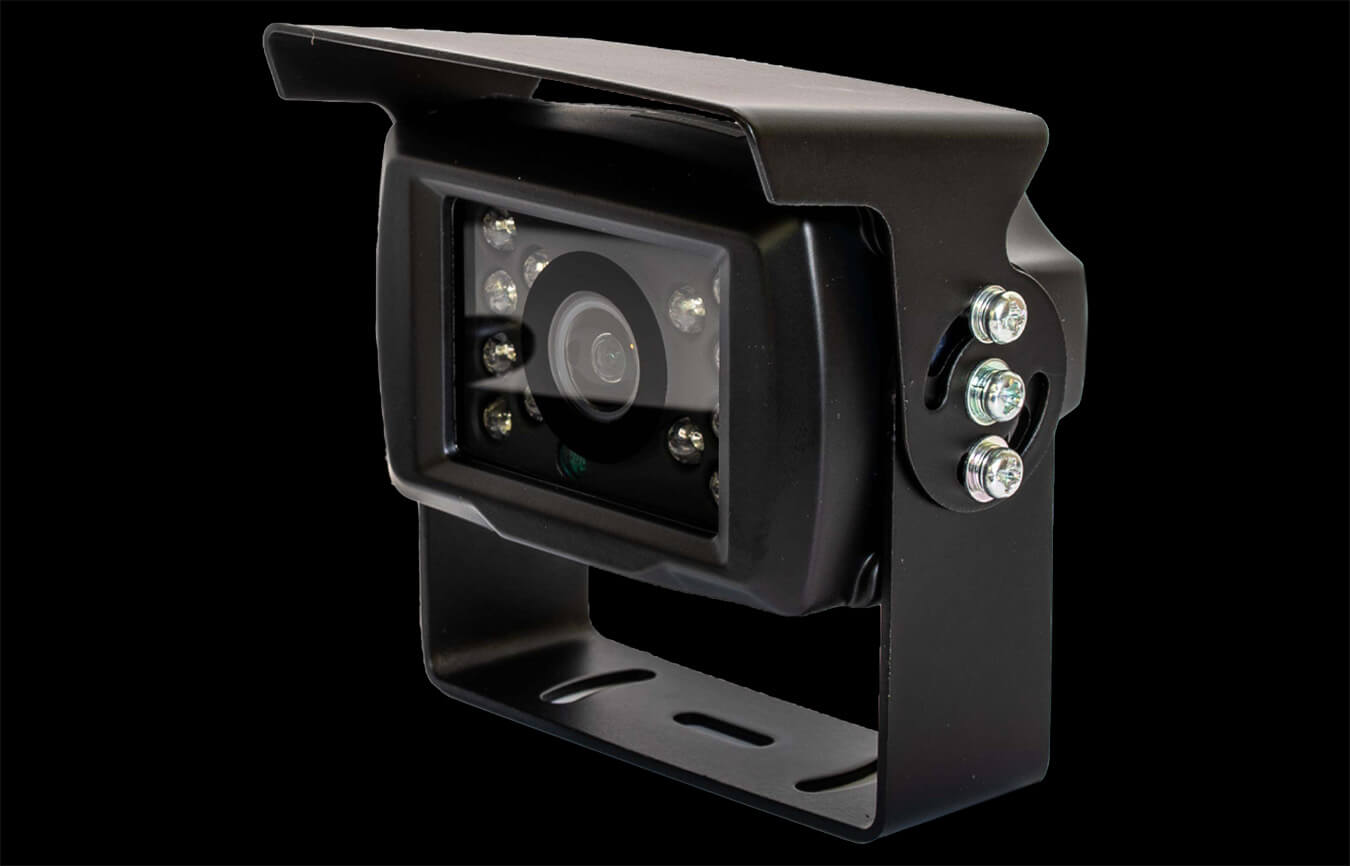 Wireless Camera
Exterior / Interior Camera
Fleet Camera System Mobile App
View Your Commercial Truck Cameras in real time & on the go!
Subscribe to our YouTube Channel
We love our commercial truck camera system from skEYEwatch! I don't know how we operated without them for so long. The investment has already paid for itself within the first couple months of using them. We operate a large fleet of concrete and aggregate hauling trucks in Sebring, FL. Big construction trucks like ours are targets for fraudulent roadway and property damage claims. Before we started using skEYEvue, we seemed to be shelling out tons of money to settle random claims; –Even when we weren't so sure if the claims were legitimate. It was their word versus ours. We don't like upsetting our local town, so we just settled to make them go away.

After we installed the 360 vehicle cameras, we found that more than 3/4 of the time, the recorded videos from our cameras were clearing us from wrong doing. Now we have unobstructed / undeniable video evidence to protect us. It is one of the best investments we ever made!
Conley Jahna
Owner, Jahna Concrete Inc of Avon Park, FL & President of FICAP
FAQs About Our Commercial Vehicle Camera System.
Common answers to common questions about the skEYEvue Commercial Vehicle Camera System.
Does the skEYEvue vehicle camera system include a dash monitor for the drivers?
Yes! Our vehicle cameras include a touch screen dash monitor that is mounted near the driver's line of sight. Very similar to a back up camera which allows the driver to glance at the monitor to see what the cameras are seeing in real time. With this touch screen monitor, drivers can easily toggle through all of the cameras views and/or set up split screens. This is especially helpful when navigating in tight spaces and around difficult terrain!
Does skEYEvue commercial vehicle cameras have a night vision mode?
Yes, our cameras feature night vision mode which enables an IR function as well as an auto electronic shutter and auto white balance. These night vision features assist with viewing night footage nearly as clear as day.
How many cameras does skEYEvue support?
If needed, our vehicle camera platform can support up to 8 cameras per vehicle max. Generally, we recommend at least a configuration of 4 to 5 cameras per vehicle. With a 5 camera configuration, trucks and vehicles will have coverage of all 4 sides, including a driver facing dashboard camera that faces the driver. 4 camera configs will only have a front facing dash cam which prevents video recording of the the driver.
How many channels are included in the skEYEwatch X3 Core?
Our standard X3 Core has 8-channels which supports 6 A/V cameras + 2 additional IPC cameras.
How many hours of full HD footage does the DVR hold with skEYEvue?
It really depends on the camera configuration per vehicle. Example: With skEYEvue, a (4) camera configuration can hold up to 350 – 400 hours of loop recording surveillance on a 1-terabyte hard drive. If there are more than 4 cameras, then it will take up more space, which reduces the hours of storage. On the other hand, if there are less than (4) cameras, then more hours of footage can be stored.

*We also offer upgradable storage options for more space, if needed.
What is loop recording?
Loop recording is the process of continually recording without any stoppage. This means if a surveillance DVR stores 300 hours of footage, then the oldest recorded video footage will be recorded over by the newest footage. The recording loop process never ends. The skEYEvue system also uses the loop recording process.
Does the skEYEvue 360 truck camera system use SD cards?
The current version of the skEYEvue X3 Core DVR does not require SD cards. Alternatively, the X3 Core uses an internal SSD hard drive. However the next iteration of the X3 will include a SD card slot for triggered event recording in the event of a catastrophic accident. For instance, if the SSD hard drive fails due to a bad car accident, the SD card slot will have backup footage from the trigger event. This new SD card feature should be released in late 2021 / early 2022.
What is parking mode and does skEYEvue have this feature?
Parking mode is when a camera system continues to record, even if the vehicle is parked with the ignition off. skEYEvue does have an option to initiate parking mode. By default, our surveillance system records for 45 minutes before shutting down with ignition off. If requested, we do have an option for extending parking mode up to 23 hours and 59 minutes max.
What is a Vehicle Blackbox DVR?
A Vehicle Blackbox DVR is an extremely important electronic component of a commercial truck camera system. It is a rugged device that protects the data stored on your vehicle's recording and telematics system. The hard drive or SD card within the blackbox will store video footage collected from the vehicle or truck surveillance system much like our skEYEwatch X3 Core. – Let's say there was an accident causing total destruction to a vehicle or truck! Law-enforcement investigators want to search for the vehicle's blackbox, so they can investigate what caused the accident. The data and surveillance footage stored on the vehicle blackbox DVR will also help with insurance investigations and settling claims. It also becomes an extremely important fleet safety and driver coaching tool, especially if the data shows that a particular accident could've been avoided.

Complete the form below to request a call back from one of our fleet camera experts!
Want to Chat? Let's talk!
Call us today to learn more about skEYEvue, our commercial fleet vehicle camera systems.